case studies
High Noon Communications has extensive experience writing and editing publications, annual reports, magazine and journal articles, grant proposals, Congressional testimony, policy analyses, press releases, and website text.
Whether crafting original prose to showcase programs and services, editing technical documents to ensure clarity, or developing materials to explain a complex policy issue, High Noon works closely with clients to create products that clearly communicate key messages, address specific audience needs, and deliver the final product on time. High Noon also partners with graphic designers to develop products that highlight and reinforce key messages and strengthen organizational identity.
Fight for Children
Fight For Children is an independent, not-for-profit organization that recognizes, promotes, and cultivates quality education for low-income children in Washington, DC. High Noon has edited several Fight For Children publications including the report Every DC Child a Champion and its 2009 annual report.
Gay & Lesbian Victory Institute
The Gay & Lesbian Victory Institute (GLVI) works to achieve full equality for lesbian, gay, bisexual and transgender people by building, supporting, and advancing a diverse network of LGBT public leaders. Through its training and professional development programs, GLVI assists hundreds of individuals who go on to influential careers in politics, government, business and advocacy each year. Many of GLVI's trainees join the more than 1,000 openly LGBT elected and appointed officials now serving around the world. High Noon conducted an extensive research of more than 750 potential funders, prepared fact sheets of the top 30 prospective funders, and wrote sample letters of intent and proposals for key GLVI programs.
International AIDS Society
The International AIDS Society (IAS) is the world's leading independent association of HIV professionals, with over 14,000 members from more than 190 countries working at all levels of the global response to AIDS. High Noon manages the writing and production of the IAS's quarterly newsletter, developing the editorial calendar, assigning and writing articles, editing text, selecting photos and managing production. Recent issues include March, July and November 2011.
National Cancer Registrars Association
The National Cancer Registrars Association (NCRA) is a not-for-profit association representing cancer registry professionals and Certified Tumor Registrars. NCRA's primary focus is education and certification with the goal to ensure all Cancer Registry professionals have the required knowledge to be superior in their field. High Noon wrote a grant proposal that secured a $1 million, five-year grant from the Centers for Disease Control and Prevention to develop training programs and design recruitment initiatives for cancer registrars.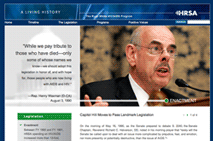 Ryan White HIV/AIDS Program
The federal Ryan White HIV/AIDS Program supports medical care and support services for uninsured and underinsured people living with HIV/AIDS across the U.S. High Noon has produced a number of materials for several clients on policy, programmatic and historical aspects of the program.
High Noon drafted significant portions of a federal website on the history of program, including the story of its initial legislative passage and the creation and development of each of the program's five components: Part A, Part B, Part C, Part D, and Part F. To prepare the histories, High Noon interviewed a number of the key players, analyzed the legislative history and Congressional record, and reviewed dozens of news stories.
High Noon also wrote editions of CAREAction, the newsletter of the federal agency that manages the program. The topics included quality care standards and mental health and HIV.
Working with CAEAR Coalition, High Noon has produced a number of policy analyses and proposals related to the program over the past ten years. Notable among them are Congressional testimony, analyses and implications of program funding patterns, and legislative proposals.
Urban Land Institute
The Urban Land Institute (ULI) is a nonprofit research and education organization representing the entire spectrum of land use and real estate development disciplines working in private enterprise and public service. High Noon has written press releases to market and promote ULI publications, including Growing Cooler: The Evidence on Urban Development and Climate Change, Changing Metropolitan America: Planning for a Sustainable Future and Getting Density Right: Tools for Creating Vibrant Compact Development.
U.S. Green Building Council
The U.S. Green Building Council (USGBC) is a nonprofit organization committed to a prosperous and sustainable future for the nation through cost-efficient and energy-saving green buildings. High Noon has worked closely with USGBC staff and outside consultants in the writing and editing of USGBC publications, including several with a focus on building greener, healthier schools and campuses. In addition to editing the documents, High Noon was recognized as a contributing author on some volumes, crafting executive summaries and ensuring that language and structure were geared to the targeted audiences. The publications include: